The Whore, the Mother, the Virgin
1,396 views
The land that is now known as the Middle East is most notable for bringing the worship of a mono-God to prominence.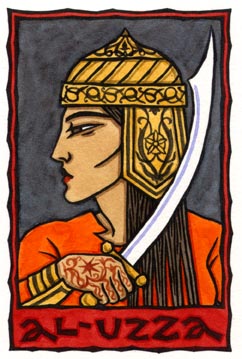 From this part of the world, the three great monotheistic religions of Judaism, Christianity and Islam sprouted and spread. But before monotheism and patriarchy, there existed another mode of worship: that of the Great Goddess. The Goddess, or the Mother Goddess, is a type of female deity who historically formed the center of spiritual and cultural life for many peoples. She existed in many societies, under different names and having different traits. And she most definitely thrived in the Middle East
One primary facet of the Great Goddess was that of fertility, as it related to Agriculture, Mother Earth, and the changing seasons and hours in "primitive" societies. And just as the goddess was revered as Mother Earth, who gives birth to plants and trees and all creations, so too were women honored for their ability to create. Thus, a correlation between woman magic and earth magic was established, where it was believed that the energy that gives birth and nourishes, but that also protects fiercely and has the power to destroy, is essentially female.
If we consider Ashtarte, for example, the great goddess of the Canaanites, Phoenicians and Assyrians, she was usually shown with horns and almost always naked. Not only was she the goddess of love and fertility, but also of war. Ashtarte (or 3ashtarut, as she is known in Arabic) is the best example of the one goddess-oriented expression as she combined different faces, prevailing in the Middle East for several millennia. Ashtarte was eventually regarded as the goddess of battlefields and horses in Egypt and in other regions, her religion embraced sacred prostitution and the Hieros Gamos ritual.
 On the other hand, we had Anat, the Ugaritic Great Goddess of life and death. And the Canaanite "Lady of the Mountain" was a mother and a whore ( in this case whore was every woman who had control and decision over her own body and its actions ), but also an aggressive and ruthless warrior-goddess.
But as patriarchal systems came to power, and later, as monotheistic religions came to be, women were categorized in very simplified dichotomous blocks of Virgin / Mother, Warrior / Whore. This either/or way of dividing women is an effective way of controlling their bodies, their sexualities, and their thoughts, and denying them access to their full potential, and thus their full power.
Take for example how, in Judeo-Christian religions, Mary Magdalen is seen as the whore counterpart to the Virgin Mary. Women need to be either/or when men's sexual behavior could range from abstinence to promiscuity without similar social judgment.
Sometimes, when there wasn't one Great Goddess, cultures worshipped different goddesses who were related, and who embodied different yet complimentary aspects of human nature. Together, they formed a holistic spiritual trinity for the people who worshipped them. This is the case with the three Arabian Goddesses. Allat, Al Uzza and Manat.
Allat (or Al Lat) was the moon goddess of Mecca, and the source of nourishment. Her name is a contraction of Ilahat (goddesses). Herodotus identifies her with Aphrodite, the goddess of love, but she is also associated with Athene, goddess of wisdom. Al Lat is called "the Mother of the Gods" or "Greatest of All."
The second goddess in this trinity of chief goddesses in Mecca is Al-'Uzzá, "The Mightiest One" or "The strong." She was the fertility goddess and Arabs only called upon her or Hubal for protection and victory before any war. She is also the founder of the Koreshites, the tribe that tends to her and her Sacred Stone in Mecca.
The third goddess is Manāt believed to be the goddess of fate. The Book of Idols describes her as the most ancient of all these idols. She was erected on the seashore in the vicinity of al-Mushallal in Qudayd, between Medina and Mecca. The Aws and the Khazraj, as well as the inhabitants of Medina and Mecca and their vicinities, used to venerate Manāt, sacrifice before her, and bring unto her their offerings.
As you see, then, these goddesses were at the center of the lives of the tribes; more importantly, the goddesses were multi-faceted beings, who represented different aspects of nature. Thus women too were considered multi-layered, and thus whole. It was a later development of patriarchal ideologies that women were compartmentalized into one type or another, such as either virgin or whore. And so to restore this complex understanding of women, we need a whole new way of looking at what religion is, and a totally different way of understanding our bodies and sex, women and their spirituality in general.
A special thanks to Deems for her contribution to this article