Palm Trees
3,235 views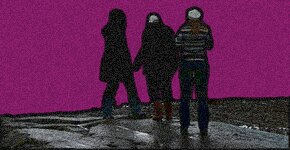 It's been two years since I last saw her–my high school best friend, my little secret, my desire, and recently, a fantasy.
We had skype sessions a couple of times when she was still in Malaysia, and I came out to her. She brought it up, and since I was mesmerized by the way she moved around the room, I fell in her trap. She was telling me about her experience with a girl that didn't go too well.
"This doesn't mean other experiences won't be much better, you were panicking", I said. She just smiled at me with her eyes squinting and her head tilted a bit to the side.
"Yeah, maybe you're right… so what about you? What's new?"
And so I told her.
"I KNEW IT! I KNEW IT!" she screamed, and then collapsed into laughter. It was that second that I figured out what she had done… She always knew how to get me talking.
Recently, we reunited; our third best friend was there too. It all happened when I traveled to see my parents. The trio of insanity, as it were; the ones who drove their teachers insane. Inseparable. We met in a hotel, and sat by the seaside. Of course, le hubbly-bubbly was there, along with alcohol. Which I must add, was the first time we drank together, considering the environment we live in is rather conservative.
The weather was amazing. It was warm rather than scorching hot, and there was a cool breeze coming from the ocean.  There were palm trees everywhere, patches of grass here and there, and the usual dosage of foreigners staying at the hotel. The sun was setting, and the alcohol just kept coming. We talked about fantasies, shared stories, discussed positions, and they were fascinated. They had so many questions. Homosexuality wasn't really a topic that was EVER discussed, even within closed groups of friends. It is known that there is a big community, but that's it. It's known, but never addressed, or talked about, a community left alone.
At one point she gets up, and sits next to me. She showered me with the usual affection of hugs, and swore at me for having to travel the next day, but she was closer than usual. Her energy was also different.
"You always leave, you always do this to me!" She said as she dug her head into my neck, acting like a little child. I couldn't help but laugh, which led to physical abuse of course. After some time, we get up and decide to go sleep on the chairs next to the pool. She sits on the same chair, lying next to me, and we were alone while N was away. She lit a cigarette, and gave it to me; then lit one for herself. We were quiet for a while, and it was starting to get uncomfortable. Both of us realizing this, we broke the silence with giggles.
"What's wrong? Do you have something to tell me? Why are you being all shy like we just met today?" I said finally. She looked at me, and she just stared into my eyes for a while, trying to read me.
"I want to kiss you", she said slowly, and looked away. I have to admit, if I were drinking at that point in time I would have choked, or spat the drink in her face, which I'm very grateful of not happening. I might as well would have buried myself alive.
"I'm not sure what to say… I want to kiss you too," I said, and sat up a bit. I could feel her hand run up my leg, and then my stomach, and stopped at my neck. Her fingers now drew lines on my skin, and I could feel her breath on my shoulder. I looked at her, and we moved closer, so close now, I could smell her skin, I could feel her burning up.
"Heeeeeey! You guys can't have fun without me!" screamed N in the background. She pushed me away, fell back into the chair, and folded her arms. Yeah… she didn't see ANY THING. I gave her my "really?" look, and she just burst out laughing–her usual reaction to life. N was standing there, tipsy, with a Long Island in one hand, water from the side of the cup dripping, and her phone in the other. Soon, N got a phone call, and these things last forever.
She took me by the hand and nodded towards the bathrooms, with a smile I still can't get out of my head.
We went in, it was 9 p.m., and they were empty; the likelihood of anyone walking in was very minimal. She pulled me into the cleanest cubicle, since she is an OCD freak when it comes to cleanliness and germs, and locked the door behind us. We stood very close. She was looking down, and I just looked at her. I took her hands, moved her back against the wall, and moved closer. Our lips were an inch apart, and I just stopped. She kissed my neck, then moved higher next to my ear (my weakest point), and then, just like that, she kissed me.
She tasted like the fruits in our drinks, like cigarettes, like her. Her hands wandered, then slipped into my shirt, and I pushed up against her. It was getting extremely tense. I kissed her neck and she was breathing loud, breathing fast, and her hand was gripping my hair. I slowly moved my hand until it was between her legs and pressed lightly. She moaned.
"Stop… I can't do this… not here, not like this" She said, out of breath. I straightened up, nodded and kissed her on her cheek. She leaned in and gave me one last kiss before we left. A part of us didn't want to leave, but we both knew that we couldn't go any further, not now at least. The second we stepped out, we found N wandering around like a lost puppy looking for us.
"Where were you guys? Gasp Did you guys do something??" We just looked at each other, smiling.
"C'mon N, let's go walk on the beach for ol' times sake," I yelled, and put my arm around N's shoulder. She followed quickly, held my hand, and walked down to the ocean together–the  three of us, just the way it used to be.
- Contributed by El Escritor